Current Hazards
The Tropical Storm Warnings have not changed since the previous update. Included areas are: Chambers County, Southern Liberty County, Coastal Harris County, Coastal Galveston County, Galveston Bay, and all Gulf Waters.
The Coastal Flood Watch has now become a Coastal Flood Warning north of San Luis Pass and a Coastal Flood Advisory south of San Luis Pass.
A Small Craft Advisory is in effect for Matagorda Bay beginning 1 AM Friday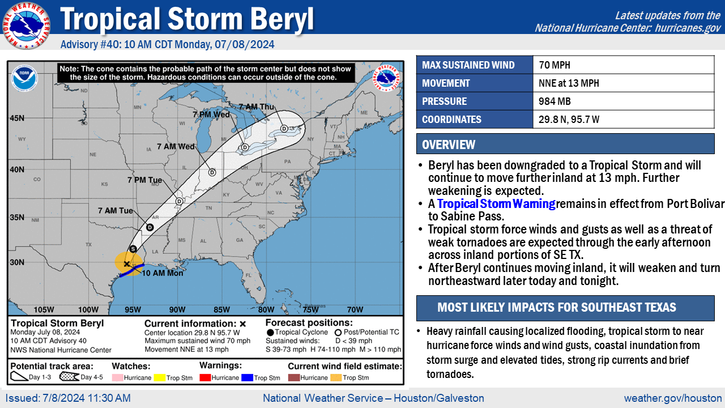 Overview
As of 4 AM CDT, Hurricane Delta was located in the south central Gulf of Mexico moving to the northwest as a Category 2 hurricane (max winds 100 mph). It will turn to the north-northwest later this evening, then to the north and northeast on Friday. Landfall is still expected to be in southwestern Louisiana Friday afternoon.
As of now, the greatest hazards from Delta for our area will be coastal flooding (1 to 3 feet) generally north of San Luis Pass, including around Galveston Bay and across the Bolivar Peninsula, and tropical storm-force winds with gusts up to 60 mph in the waters and along the southeastern portion of the area. Hurricane Delta will also produce minor to moderate coastal flooding south of San Luis Pass and around Matagorda Bay, shoreline erosion, and strong rip currents. Seas from 10 to 15 feet are expected with occasional seas around 22 feet far offshore. Locally heavy rain will be possible in the outer rainbands that move through the eastern portion of the area on Friday. Significant impacts are not anticipated in the far inland and western portions of the area.
Conditions will begin to deteriorate as early as this evening and will continue through Friday. Weather conditions will gradually improve by Friday evening.  Regarding confidence levels, confidence remains medium to high that a turn to the north-northeast will occur by Friday. This would keep the worst conditions to our east.